salam....
Nothing much to update..just nk keep in as blog memories... hehe.. It's about 5 months i'm getting engaged with dia.. Sbnarnye dh terlupe.. hehe.. sbb cbuk pkirkan pasal kawen jek.. xde wish2 pn.. dia pn same.. kalu sy x ingat, dia lagi la lupe.. huhu..
Best gak ingat2kan mase tunang ari tu.. semuanye tertumpu kat I..hehe.. ye arr.. Sy kan jd pengantin kecik mase tu.. :P... semua bersatu hati menjayakan majlis yg simple tp meriah tu..
thank you to all.. special dedication to :
to my family - tq sbb make my draem comes true...love u..
to kak nor - tq sbb change my face.. heheh
to wan chek/tok chek - tq sbb dtg..
to wan - tq sbb tolong mak masak.. tq gak kat roti jala wan yg super duper sedap tu..
to en maaruf - tq sbb buat ape yg sy nk..bagus2 bertindah mengikut arahan..kejam ke?? hehe
to mak zah - tq sbb sempat siapkan baju tunang ku..
to friends(zaiyana/at/yati/maria/nep/lisa/nusajaya team) - tq for coming
to at - tq sponsor cakes hantaran
to kak ai.. - tq sponsor cake munge2.. :)
to azie - tq sponsor coklet.. nyum2
k la.. nk paste gambar tunang ari tu.. happy viewing... muahhh..
the hantaransss..
my side..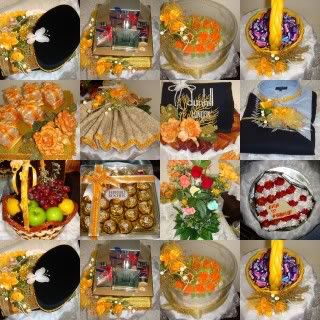 dia's side
k la.. till then.. :)